Images are for illustration purposes only and may not reflect standard inclusions.
Images are for illustration purposes only and may not reflect standard inclusions.
Livability and a cool summer breeze. Designer pitched rooflines with window highlights create a strong visual appeal, plus a feeling of space in this distinctively designed 3 bedroom home. Featuring open plan living, opening up to both the front and rear covered outdoor areas to let the summer breeze in and give you extended views while inside the home. Plus a purpose built front verandah that brings your attention to the entry, while complimenting the street appeal of this home. This smart 3 bedroom design features a generous master bedroom, complete with walk through robe, ensuite and sliding door access to the outside deck area. And on the western wing, there's 2 bedrooms, each with their own sliding door access to a rear deck area. The Fernando is a home of distinction, so send us a message and you can be enjoying the summer breeze in yours too.
How to choose a foundation:
Most builders favour using concrete slab foundations because they are relatively easy to install and reduce overall construction time. They are virtually maintenance free and can be designed to suit all soil conditions.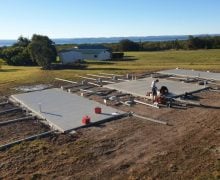 Not only does steel offer a fast, simple and cost-effective solution in the short term, it's also easy to take care of in the long term. These floor systems require a very low amount of maintenance to keep it looking great and performing at its best.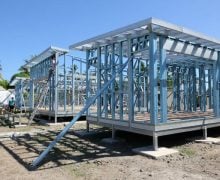 How to choose a Ceiling height:
Are you looking to keep your ceilings standard or upgrade to high ceilings? Over the years ceiling height trends have changed with the average ceiling height currently 2.7m
How to choose your Cladding
Cladding is used to provide a degree of thermal insulation and weather resistance, and to improve the appearance of your new home.
Supply issues mean the costs, range and availability are constantly changing. This is a guide only.
Browse the latest brochure
Updated annually with your favourite designs, plans and how you can build your very own kit home.