Images are for illustration purposes only and may not reflect standard inclusions.
Images are for illustration purposes only and may not reflect standard inclusions.
The house of tomorrow at a price you can afford today. The Norfolk kit home offers minimalist beauty mixed with a midcentury design influence that takes the onlooker back a hundred years while also igniting the inner architect in us all. The massive hallways are definitely a feature of the home that can't be overlooked. The way the glass in the home frames the outlook is nothing less than perfectly designed. With tall windows that remind you of a cosy hotel and a corner stacker (or budget variation) that provides fantastic functionality.
How to choose a foundation:
Most builders favour using concrete slab foundations because they are relatively easy to install and reduce overall construction time. They are virtually maintenance free and can be designed to suit all soil conditions.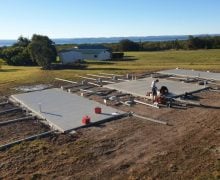 Not only does steel offer a fast, simple and cost-effective solution in the short term, it's also easy to take care of in the long term. These floor systems require a very low amount of maintenance to keep it looking great and performing at its best.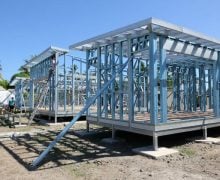 How to choose a Ceiling height:
Are you looking to keep your ceilings standard or upgrade to high ceilings? Over the years ceiling height trends have changed with the average ceiling height currently 2.7m
How to choose your Cladding
Cladding is used to provide a degree of thermal insulation and weather resistance, and to improve the appearance of your new home.
Supply issues mean the costs, range and availability are constantly changing. This is a guide only.
Browse the latest brochure
Updated annually with your favourite designs, plans and how you can build your very own kit home.